GE Unitized Spacemaker Washer/Dryer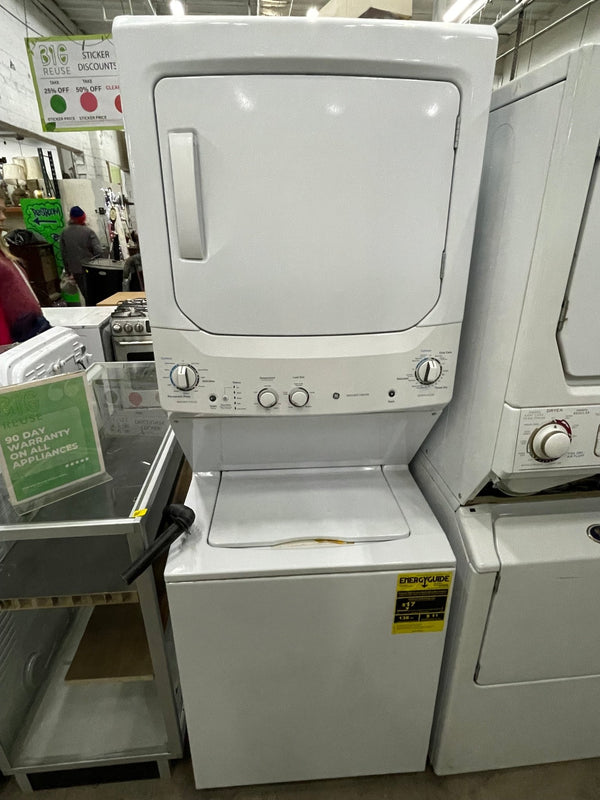 Model #: GUD27ESSJ0WW
Features:
Rotary Electromechanical Controls(Dryer)Allow fast, easy cycle selection.

11 Wash CyclesMultiple cycles are designed to specifically handle various fabrics and soils.
6 Wash / Rinse TemperaturesSelect the right temperature for ideal wash results.
1 Wash / Spin speed CombinationSpeeds are matched to fabric type for great clothes care.
Auto Load SensingWasher will automatically measure the load size and add just the right amount of water.
Rotary Electronic Controls(Washer)Simplify cycle selection.
Washer Cycles
Bulky Items.
Casuals.
Colors/Normal (Heavy, Normal, Light).
Delicates.
Drain + Spin.
Speed Wash.
Whites (Heavy, Normal, Light)
Presoak
Easy Care Cycle 
Casuals.
Auto.
More Dry.
Less Dry
Cottons Cycle
Auto.
More Dry.
Optimum Dry.
Less Dry