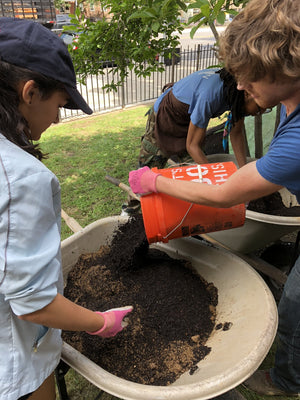 Curbside Composting Outreach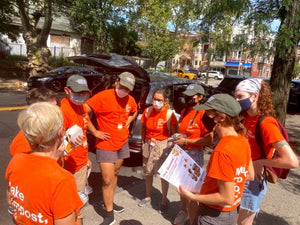 The Curbside Composting Outreach Team, in partnership with the Department of Sanitation, is promoting awareness of New York City's efforts to have all residents save their food scraps at home and put them in a special compost bin for pick-up once a week by Sanitation.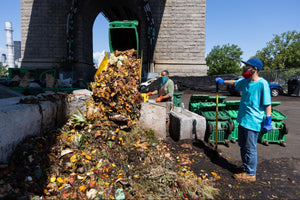 Food scraps and yard waste make up more than 30% of our trash. New Yorkers send 8 million pounds of compostable waste to the landfills  every day. Composting these organic materials significantly reduces both the amount of waste filling our landfills and the dangerous methane gas emissions that result from their decay. The benefits of composting are tremendous for the health of our environment and the quality of New York City's street life. Compost nurtures and strengthens our green spaces and infrastructure and is returned to our parks and communities cost-free for their use.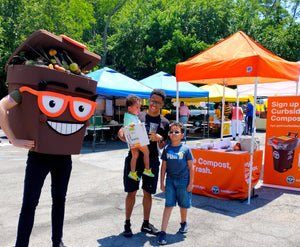 The practice of composting using a secure bin with a strong and tightly-closing lid, especially for food scraps, protects against pest invasion, reducing the rat population on our streets, keeping neighborhoods cleaner.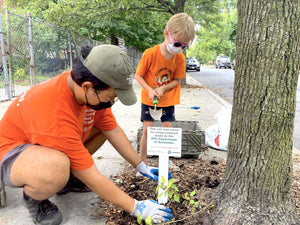 Our Outreach Team is made up of passionate and committed individuals working on the ground engaging with New York City's communities through tabling events, webinars for community groups, door-to-door home canvassing, free compost give-aways, providing street tree care sessions, and more.
As of October 2022, the entire borough of Queens will be receiving Curbside Composting services. The Outreach Team is now focused on engaging, educating, informing and prepping  everyone in Queens on the new services they'll be receiving as this new program rolls out. 
From March 2021 through July 2022, the Outreach Team concentrated on engaging Community Districts 1, 2, 6, 7 in Brooklyn, 6 and 7 in Manhattan and 8 in the Bronx.
Before Big Reuse hosted the info session, our compost bin was nearly empty every week. After Big Reuse stopped by, we immediately saw more neighbors dropping off food scraps! Our bin is now filling up every week.
Aruni
We are finally composting, and I'm not sure why it took us so long! It is so easy, and has reduced our weekly garbage by A LOT! We also feel good about the whole process because we know it is helping the city and the planet.
Heidi
At last collecting food waste in our brown bins is once more for composting, not for more trash. At Riverdale House, we are glad that our weekly trash is back to being waste free! Thank you for the work to restore this valuable program!
Andrea
Curbside Composting is one of the most important things to happen to NYC in years. It's a way for New Yorkers to make a real difference in the fight against climate change, and help ensure a greener, more sustainable future for the biggest city in the world.
David