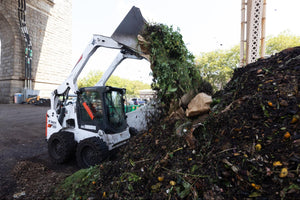 OUR MISSION
Big Reuse advances New York City's sustainable urban environment through circular economy programs that divert waste from our landfills and reduce greenhouse gasses in the atmosphere.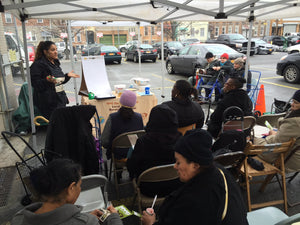 We pursue our mission through reuse and transformation. The Big Reuse Center takes in tens of thousands of donated items that are resold and kept in use by thousands of new owners, keeping them out of the landfill. Through the NYC Compost Project and Curbside Composting Outreach we help New Yorkers sustain city-wide composting programs that collect food scraps and turn them into compost used to enrich soil across NYC and strengthen our green infrastructure against climate change.
History
2005 – 2015 -

Justin Green is the Salvaged and Surplus Building Materials Program Manager at Build It Green! NYC, an innovative nonprofit located in Queens diverting construction and deconstruction salvaged materials from the landfill through re-sale. At Build It Green! NYC Justin begins a partnership with the Department of Sanitation for the NYC Compost Project that works with community groups to collect organics, haul them and make compost.

2015 -

Justin spins off the Salvaged and Surplus Building Materials program at Build It Green! NYC to create Big Reuse based in Gowanus, Brooklyn. Big Reuse launches Big Reuse Center, its social enterprise, which sells a broad variety of donated used and vintage goods. Big Reuse operates NYC Compost Project Hosted by Big Reuse.

2017 -

Curbside Composting Outreach, in partnership with the NYC Department of Sanitation starts up to conduct community outreach to grow sign-ups for and increase participation in NYC's Curbside Composting Program.

2020 -

The US Composting Council names Big Reuse as the Composter of the Year - Small Scale.
Board of Trustees and Senior Staff
Board of Trustees
Kate Grossman - President
VP, MillerKnoll Contract Marketing
Noah Leff - Treasurer
Chief Finance and Administration Officer, Overbrook Foundation
Christine A. Coletta - Secretary
Partner, Hirschen Singer & Epstein LLP
Elizabeth Aceituno
Sustainable Finance Specialist,  World Wildlife Fund
Tishya Ballaney
Associate Director, ESG Index Management Lead, S&P Global
Althea Erickson
Director, Rustle Lab
Alex Guyton
Volunteer Programs Manager, City Harvest
Little Wing Lee
Designer, Little Wing Lee Studio
Josh Treuhaft
Sr Experience Strategist, Apple
Justin Green
Exec Dir, Big Reuse, ex officio
Senior Staff
Justin Green
Executive Director
Diana Stinehour
Finance Director
Mary-Elizabeth Mitchell
Director of Development
Fredric White
Reuse Center Director
Devin Reitsma
Project Manager -  NYC Compost Project
Sarah Woodruff
Project Manager - Curbside Compost Outreach