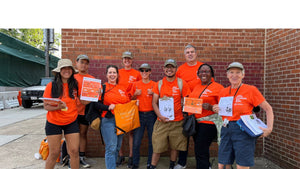 Celebrating 10 Years of Composting!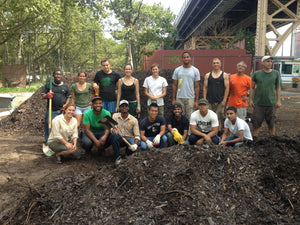 In 2012...
Big Reuse began its partnership with the New York City Department of Sanitation. We are a leader and innovator in community-based composting and a key part of the City's efforts to make composting possible in NYC. We're proud to say that over the last 10 years we've created a self-sustaining circular infrastructure for collecting, transforming, and distributing food and yard waste.
Infrastructure
2 Composting Facilities
Big Reuse created the Queensbridge Site and the Gowanus Salt Lot, two urban-scale composting facilities that have produced over 3,000 cubic yards of compost and diverted 13.5 million pounds of food and yard waste from landfills (equivalent to 4,000 tons of GHG emissions).
Accessibility
75 Food Scrap Drop-Off Sites
Our network grew from just 14 sites to drop off food scraps to 75 in 2022. The compost collected at these sites was redistributed back to over 3,200 New Yorkers, promoting reuse through a circular economy.
Engagement
Over 6,100 Volunteers
The Composting Outreach Team has engaged over 200,000 New Yorkers about curbside composting. Our outreach team works by canvassing, hosting events and giveaways, and educating our community on composting.